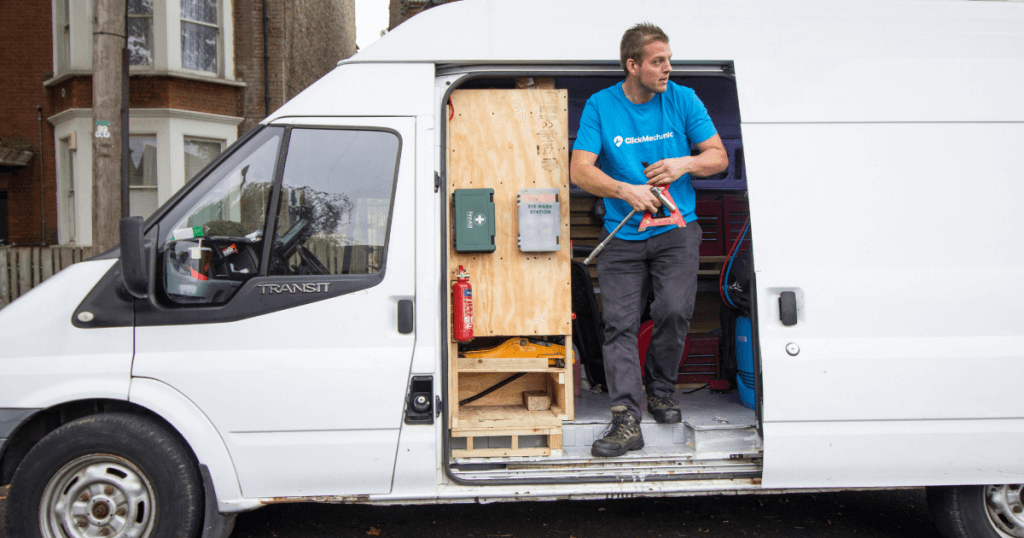 So you've decided to take your business from the workshop to the road. One of the first questions you may have is how easy is it to set up on your own and what insurance will you need?
When you're a mobile mechanic, your vehicle and equipment are essential to your day-to-day work. Therefore, it's imperative to make sure you're properly covered. As a mobile mechanic, you'll be spending a lot more time on the road than a trader with a fixed business premises. This means you'll need a different insurance policy specially designed to cover you, your business, your customers' vehicles and any claims made against you.
What is Mobile Mechanic Insurance?
The Mobile Mechanic insurance cover is designed for mechanics who don't operate from a fixed location or workshop, but rather visit their clients' premises, homes and workplaces on the road.
You will need adequate insurance coverage if you are a mechanic who operates from a van. The policies include all components of risk, such as vehicles you drive as well as those of clients, public and employers' liability cover (a legal requirement if you have employees), as well as equipment coverage for mobile and fixed machinery and tools.
Anyone working within this field should have the proper insurance policy, regardless of whether they are full-time or part-time, work from home or even operate from a garage. The policy should be able to cover machinery, tools, and most importantly must cover you to drive customers' cars for testing and diagnosing them. It's important to remember that in the event of an accident in which you are driving either your vehicle or customers, your insurer will only payout to cover the third-party costs, leaving you out of pocket.
If you're starting out as a mobile mechanic, it can be confusing and sometimes overwhelming with all the different terminology and policies available. It's recommended to discuss all your options with your broker before making the final purchases.
What Should Mobile Mechanic Insurance Cover?
Every mechanic is different so the type of insurance covers can also differ. While thinking about an insurance cover, it is important to consider the following:
Insurance that covers customers vehicles for when you need to test drive them
The risk of being sued in relation to work you carry out
The value of goods, plant, machinery, stock and portable hand tools you store in your van
Including your own van as part of a motor trade road risks insurance
Types of Traders Cover Available
Road Risks Insurance
One thing that is inevitable is that accidents happen, so it's crucial you are covered, both for yourself and your customers. As a mobile mechanic without a fixed business premise, Road Risks Insurance is an absolute must. It's a given that you will have a customer's vehicle in your care on a daily basis, therefore a Road Risks policy ensures you meet the minimum insurance requirements when the vehicle is your responsibility.
A Road Risks policy covers:
Named drivers only
Vehicles owned by the Policyholder or Policyholder's spouse if they are a named driver. (Policyholder must have a Limited Company or Limited Partnership and the vehicles must be owned by the Ltd Co or LLP.)
Customers' vehicles while they are your responsibility (motor trade use only).
Click this link for more information on Road Risks Insurance options from Road Runner
Liability Insurance
In addition to Road Risks, Liability Insurance is also worth considering for any mobile mechanic. Accidents can happen at any time, and you could be held responsible. A Liability policy from Road Runner will help ensure all mobile mechanics have the funds to defend or settle a claim made against you or your business.
Liability Insurance can cover many aspects – products, the public, defence costs associated with claims made against the mechanic and Employer's Liability (compulsory in the majority of cases if you have employees). Road Runner also has the option to cover portable hand tools which are highly recommended for mobile mechanics.
For more information on Liability Insurance from Road Runner, click here
Why Do You Need Mobile Mechanic Insurance?
All mobile mechanics should have a basic level of motor trade insurance in place since it is required by law. The minimum level of insurance required by law is designed to cover any damages caused to third parties in the case of an accident.
Motor trade insurance covers you to drive both customer vehicles and company-owned vehicles. In addition, it covers potential risks associated with your field of business, such as accidental damages and issues resulting from faulty work. If you have employees, it is also a legal requirement to have Employers' Liability insurance. Public liability insurance covers both you and your employees against claims made by customers and members of the public.
Where Can You Purchase Mobile Mechanic Insurance?
There are several websites available that can help you compare the cost and benefits of motor trade insurance based on your requirements. There are also comparison websites online that compare prices and quotes from different insurance companies and helps you understand which insurance policy may be right for you.
ClickMechanic has an exclusive partnership with Road Runner Motor Trade Insurance which means that if you're a member of a ClicMechanic, you can receive two months of free insurance* with Road Runner. To redeem this offer, simply fill out your details on the form and a member of the Road Runner team will be in touch to discuss your motor trade insurance and help you choose the best policy to suit your needs and requirements.
How Much Does Mobile Mechanic Insurance Cost?
The cost can vary greatly, depending on both your personal circumstances and the unique needs of your business, so an average cost can be difficult to determine.
When calculating your premiums, most insurance providers take into account one or more of the following:
Age – if you are under the age of 25, you could expect to pay more for your insurance policy than an older, more experienced driver.
Claims history – The greater your claim history, the higher your premium will be.
The type of cover – The level of cover will also influence the price; choosing a more comprehensive level of cover will be more expensive but will leave you better covered against a claim.
Tools, equipment and your van – This can vary depending on the value of your van and how secure it is. For instance, parking your van with all your tools and equipment in a locked garage is more favourable to the insurer than parking it on the street.
Of course, any extras on top of this will also increase the overall cost of your insurance policy.
How Can You Save Money On Your Mobile Mechanic Insurance?
Pay annually
It is best if you pay your insurance in a lump sum at once instead of in monthly installments. Even though it might seem like a huge expense at the first instance, you won't have to pay any additional administrative or interest charges saving you money in the long run.
Compare the market
There are several companies offering various types of cover with a variety of benefits. Our partnership with Road Runner Insurance gives ClickMechanic members two free months of free insurance on their policies. By choosing Road Runner, mobile mechanics have access to their online portal where mechanics can quote online, view policy documents including certificates at the touch of a button and have a dedicated team available to answer any insurance queries.
Secure your van and equipment
It will certainly help to lower your insurance premium if you take steps to make your van more secure. The best place for parking your van is on a driveway, or better yet, in a locked garage. Besides parking safely, you should also consider getting an alarm for your van if you don't already have it.
Mobile Mechanic Insurance FAQs
I am only working part-time – do I need insurance?
Yes, you would still need insurance. If you are trading as a business and not a hobby then part-time cover may be best for your requirements as you can get a policy that covers you when you need it to. Traders' insurance is quite expansive so make sure to check with your insurer about what policy is the best for you.
What type of cover is best for my business?
The most important type of cover you need as a mobile mechanic is for road risks. This insurance will cover your own vehicle as well as any vehicles you work on. It's highly recommended you get public liability insurance as well as cover for your tools and equipment. If you have employees, it's crucial to get the Employers' Liability insurance as this will protect you against legal and compensation expenses from employee claims.
To join ClickMechanic, you will need Motor Trade insurance as well as Public Liability insurance. If you don't have insurance we can help you acquire them.
ClickMechanic is looking for mobile mechanics to service the jobs that our millions of users are booking each year. If you are a mobile mechanic and have Motor Trade insurance, Public Liability insurance, and 5 years experience then take a look at our mobile mechanic sign-up page.