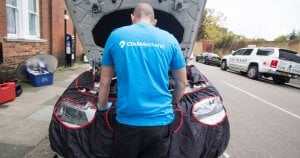 Mobile mechanics are becoming a growing trend in the UK auto repair industry, especially in the post-COVID era. Data suggests that there has been a 127% year-on-year rise in mobile mechanics taking out insurance for their sole traderships in 2021. Customers have come to appreciate the sheer ease and convenience of the service. Instead of waiting for a customer to get to the garage or workshop, mobile mechanics give them a more flexible solution and fix their cars right on their driveway.
Why become a mobile mechanic?
The two big advantages of being a mobile mechanic are independence and flexibility. Many mechanics have been able to combine their passion for repairing cars while enjoying the privilege of working for themselves by setting up their own mobile business. As the costs are relatively low compared to setting up a garage, this is a practical first step into launching a solo independent business.
In terms of flexibility, mobile mechanics are able to have a more flexible schedule most of the time as compared to working at a dealership or a bigger garage. They can decide how many days a week they'd like to work and also choose the type of jobs they want or do not want to do.
In terms of demand and profitability, that really depends on the amount and type of work taken and of course the marketing channels the mechanics choose to utilise to reach more customers.
Mobile mechanics on the ClickMechanic network can earn around up to £15,000 in additional revenue a month completing an average of 60 bookings per month via requests through the platform.
Getting started as a mobile mechanic
The work you enjoy doing and the tools
As a mobile mechanic you will be working for yourself or in the long run, even become a 'boss' with staff to manage. Even before you decide the name of your new company it is important to consider the type of work and jobs you enjoy doing.
Check what tools you have or what tools you may need to invest in to become a mobile mechanic. You already know that different jobs require different tools but this goes a step further when you're on-site and not in the comfort of a garage or workshop. You may need to purchase special equipment to carry out certain jobs so ensure you take this into account before deciding what kinds of work you want to carry out as a mobile mechanic.
Few tools and equipment you may need to invest in include diagnostic equipment, additional hands tools, tool storage solutions, jacks and jack stands, and a big van with ample storage space.

The boring BUT very important paperwork
When just starting out as a mobile mechanic you'll likely be classified as self-employed for tax-related purposes. Which? has an excellent guide that explains the expenses you can and can't claim with HMRC when you're self-employed. If you're not sure about this, you can always check with your local council for more information and clarification.
You should also consider opening a business bank account to manage your business efficiently. Talk to a few banks before making a decision; different banks have different incentives available and are specially built to support small businesses.
All mobile mechanics should have a basic level of motor trade insurance in place since it is required by law. The minimum level of insurance required by law is designed to cover any damages caused to third parties in the case of an accident.
Every mechanic is different so the type of insurance covers can also differ. While thinking about an insurance cover, it is important to consider the following:
Insurance that covers customers vehicles for when you need to test drive them
The risk of being sued in relation to work you carry out
The value of goods, plant, machinery, stock and portable hand tools you store in your van
Including your own van as part of a motor trade road risks insurance
We have an extensive and helpful guide on insurance for mobile mechanics here.
Understand costs
Don't undervalue yourself or the service you will be offering. Remember to consider overhead costs as well as operating costs such as the cost of fuel. Check out the rates of other mobile mechanics in the area; this will help you gauge and understand your hourly labour rate. Ask a friend or family member to phone local mechanics and get some quotes for some common jobs if you don't feel comfortable doing it yourself.
There are numerous websites and businesses that offer trade discounts on car parts, tools and other supplies. Make sure you talk to a few before deciding on who you want to trade with. Pro-tip: joining an online platform like ClickMechanic (for free!) gives you access to heavy trade discounts with Euro Car Parts.
Most customers nowadays prefer paying by card, so ensure you have a payment system in place (that's also cost-effective) to avoid the hassle of cash payments with customers. Using this website, may help you determine what is the best payment card system for your needs.
Marketing and getting your first customers
Creating a website or setting up a social media profile for your business is crucial to have an online identity. Make sure to include the services you offer and contact information. Customers also appreciate useful information so if you do have the time, you can also post some interesting car repair-related articles that will help your website or page get more visitors.
Setting up a Google My Business account is the best way for your business to show up in local searches and is also a good way to display reviews from customers. If you're looking to do some offline marketing, you can always put up flyers in your local supermarket or community centres.
When you're just starting to take a few jobs in the beginning, a mobile phone and a diary may do the trick but eventually, as you grow your business, you'll appreciate the need to maintain your bookings and customer information on a CRM (Customer Relationship Management) system. It's also important you set up an invoicing and an accounting system to maintain and organise your records.
It can take a lot of work and can sometimes feel overwhelming to run an independent business especially when you're just starting out, and this can pull you away from where you'd rather focus your time and effort on. Car repair platforms such as ClickMechanic aim to enhance the productivity of mobile mechanics and help save time by taking care of the admin, marketing, accounting, and getting more bookings so that you can focus on doing what you love – fixing cars.
Keep it professional
With your business all set up, remember that you represent your company and its image. Everything you do is a reflection of your work ethic and values as an independent business.
Ensure you have a clean van. If you have left any remnants from a job, make sure you clean them up after each job. Furthermore, you will minimise the amount of work you need to do when performing routine cleaning.
It's also important to present yourself professionally. Ensure you're wearing clean overalls when visiting a customer location. The work of a mechanic may be viewed as messy and greasy, but it does not have to be when they do mobile work.
ClickMechanic is looking for mobile mechanics to service the jobs that our millions of users are booking each year. If you are a mobile mechanic and have Motor Trade insurance, Public Liability insurance and 5 years experience then take a look at our mobile mechanic sign-up page.