When we think about car maintenance, windscreen wipers are probably not the first thing to come to mind. As far as car safety is concerned, this is one of the most important tools to ensure an unobstructed view for the driver.
Windscreen wiper blades
of your car are used to clear the water from the screen during rain, and also to clear snow, debris and dust when used with the vehicle's washer fluid system.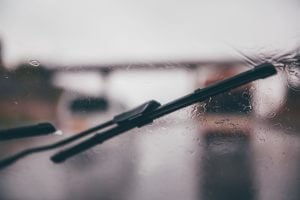 Signs your windscreen wipers might need replacing
Streaks and smears

You may start to see streaking and smearing across the screen during their operation. Sometimes this can be caused by debris that can be cleaned easily, but take a closer look at the rubber to see if there are any signs of it being worn out.

Unusual noises

Windscreen wipers are generally silent. You may sometimes hear a squeak or screech which could mean it's improperly fitted or in some cases is an indication of worn-out blades.


Skipping

This usually happens when the wipers are unused for a prolonged period of time which can cause improper contact of the rubber with the windscreen.

Other irregularities

In this case, you may notice that the leading edge of the blade has started to come adrift from the main body of the blade.
The lifespan of wiper blades depends on the quality, weather and extent of usage but can get worn out in 6-12 months. Make sure you keep an eye on any signs of replacement mentioned above to avoid causing damage to the windscreen. These are a few tips and tricks on how to take care of your wipers.