What is a socket set?
A socket set is a versatile set of different socket adaptors that can be attached to a socket wrench. In essence, a socket set is a comprehensive set of tools that can be used to operate a variety of fasteners, primarily those common to nuts and bolts. An attachment set typically comes in a pouch, case, or hard box containing multiple interchangeable attachments. For a mechanic, a good tool kit begins with a high-quality socket set.
What is a socket set used for?
Most commonly used by professional mechanics, socket sets are used for tightening or loosening a wide selection of fastener sizes and types. It is important to note that no single socket set box can provide all socket sizes. Since nuts and bolts available in the car market are so diverse in size and type, it is impossible to cover them all in one set. They can also vastly differ in price depending on the size of the set, variety, brand and quality of metal used.
There are so many toolkit varieties available in the market today, so having an understanding of what kinds of nuts and bolts you'll most likely encounter on a daily basis is vital when choosing a socket set (or sets) that best fits your needs.
Here is a round-up of Euro Car Parts' top-selling socket sets among mobile mechanics in 2021:
The round-up covers standard socket sets as well as specialist socket sets.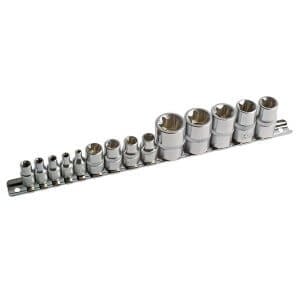 Torx is a trademark socket that has a six-pointed head that looks like a star shape hence is commonly also called a 'star'. Specially designed to fix Torx screws. They are specialist socket sets used by mechanics ​​for screwing and unscrewing the star-shaped screws often found on cars and motorcycles.
This socket set manufactured from Chrome Vanadium is a set of 14 pieces and comes in a range of three drive sizes supplied on a socket rail.
Sizes include: 1/4″D x E4, E5, E6, E7, E8, 3/8″D x E10, E11, E12, E14, 1/2″D x E16, E18, E20, E22, E24.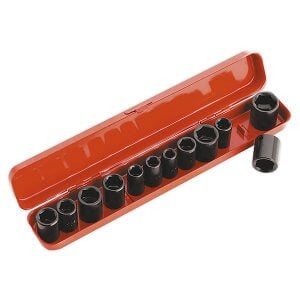 An impact socket set is designed for use with powered impact wrenches. Impact wrenches are often used by professional mechanics to remove seized nuts and bolts from vehicles. It is different from a standard socket as it is specially designed to handle the additional vibrations due to the higher levels of torque.
This impact socket set by Sealey has 12 pieces made from Chrome Molybdenum or Chrome Vanadium steel which is one of the highest quality materials used in socket sets.
This socket set by Sealey is supplied in a storage case and is suitable for use with air/electric impact guns and ratchet wrenches. Sealey places a high value on the quality of their products and is backed by a 12-month guarantee while their hand tools benefit from a lifetime warranty.
Another popular impact socket set among mechanics, this 3 piece, thin wall deep impact socket set allows mechanics to have easy access in tight areas. Thin wall socket sets not only make it easier to access the fastener but is a great addition to the mechanic's toolkit to improve productivity.
A bi-hex socket set is also called a 12-point socket as there are 12 points formed where the internal walls of the recesses intersect. In contrast to a regular hex socket, this shape allows the socket to fit over the squares fasteners too.
A popular socket set on ECP, this bi-Hex socket set features 17 essential sockets in 3/8″ Drive size complete with a rail. It comes in essential sizes that range from 8-24mm.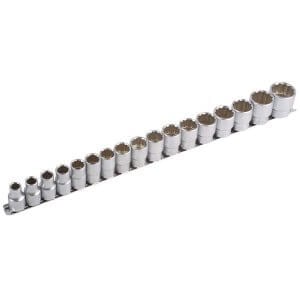 Hugely popular and similar to the socket set above, this bi-hex socket size in ½" Drive size also comes with 17 sockets with sizes ranging from 10-30mm (10-24, 27 and 30mm).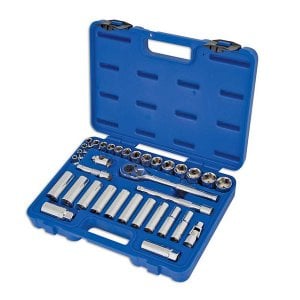 This socket set by Laser is a comprehensive socket set with standard and deep sockets. It also has 2 spark plug sockets of 10mm and 14mm. This set comes with a professional ratchet and extension bars of 75mm and 150mm. Additionally, it contains a sliding T-bar, universal joint, standard sockets ranging from 6-22mm and deep sockets between 10-19mm.
In addition to being a popular set with mechanics, this socket set has received praise from customers on the ECP website for its price and quality.
Another Torx socket set that has made it to the top ten selling socket sets is the 9 piece Torx socket set by Draper. This is a set of 9 Chrome Vanadium Torx sockets supplied on a socket rail that will facilitate neat storage of the sockets in a toolbox.
Draper is a trusted British distributor of tools and equipment for consumers and professionals and has been in the business for over a hundred years.
Among 2021's best-selling Torx sets on the website is this 9 piece socket set by Euro Car Parts. The set is manufactured from chrome-moly steel (Chrome Molybdenum) and heat-treated for additional strength and durability which ensures it is rugged and ideal for use by professional mechanics. The socket is labeled with a part number and size and supplied on a rail to make the set easier to organise and store.
This ratchet set has a 90 tooth design with 4 degrees of arc swing for making work easier in tight spaces. A ratchet's tooth count determines how many teeth there are on the drive gear, as well as how far you have to move the handle to engage the next tooth.
This 32 piece set by Milwaukee comes with a removable inner tray that is excellent for storage. In order to make it easier for the user to read, the sockets have measurement markings on the flat side.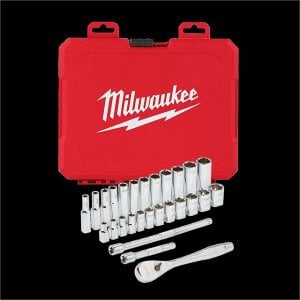 Similar to the previous Milwaukee socket set, this 28 piece ratchet and socket set is one of the top-selling sockets sets on the Euro Car Parts website. This set comes with an all-metal design and offers a 90 tooth design with a 4-degree arc swing to help the user work in tight spaces.
Milwaukee Tools is widely known for its extensive range of power tools and is a US-based company that develops, manufactures, and markets tools for nearly 100 years.
Investing in premium and high-quality socket sets can be advantageous. Socket sets are used to handle jobs that will subject them to high levels of continuous force and torque. Special impact sockets are subjected to even higher pressure levels, so being durable and robust in terms of construction and material used is essential. In essence, there will be a socket set available for the fasteners you're likely to encounter on a day-to-day basis.
ClickMechanic is looking for mobile mechanics to service the jobs that our millions of users are booking each year. If you are a mobile mechanic and have Motor Trade insurance, Public Liability insurance and 5 years of experience then take a look at our mobile mechanic sign-up page.