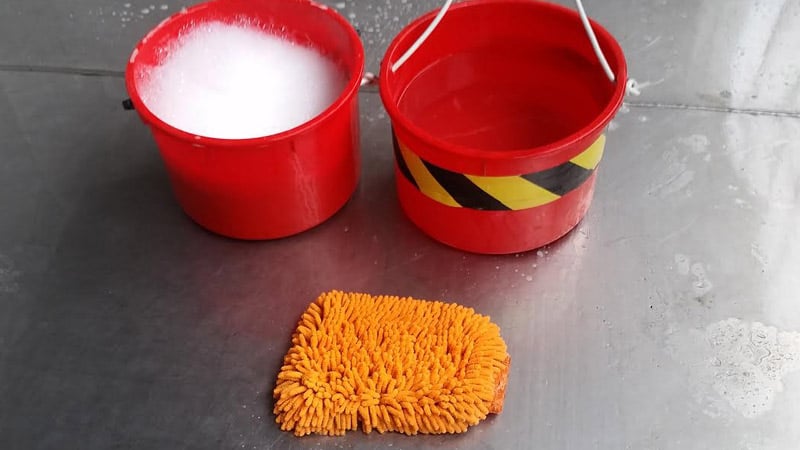 img source:cargroom.co.nz
Why should I clean my car?
A lot happens when you park your car. Birds, trees and even the weather work against you. Even while driving, you are subject to other car exhaust particulates that give you a black soot dusting, not to mention all the muck they kick up as well. This dirt can strip away your wax, paint and then start to rust your car. Additionally, it isn't that fashionable to have a tree stuck to your roof. This is a great reason to regularly clean your car as paint jobs alone can be extremely costly.
Does cleaning your car improve your MPG?
According to Mythbusters, there is a 10% saving on MPG if you have a clean car. They test a clean car, then muck it up for a second run, both over 65 miles. A dirty car does about 24 MPG while a clean car does 26.4 MPG, which looks like a pretty clean win. What does that 10% mean for you?
A saving of £120 per year (based on UK average mileage, mpg, the average cost of petrol). That's about 50kg of yorkshire puddings, but who's counting…
Here's what Karl from UK Hypermiler had to say:
"These types of tests are very subjective – fuel efficiency figures can can vary wildly depending on all types of environment conditions including wind direction / speed, altitude and ambient temperature. They make great telly but are little use for the "average" motorists who will see guaranteed gains through changing their driving style rather than running a wet cloth over the car. The drag coefficient of the vehicle can be improved through modification but it's the overall design of the body and under-pan that will have a great effect. This type of experiment is much more suited to a wind tunnel for greater consistency. Very questionable"
So should you clean your car? Yes. While the wins for MPG may be small or even negligible for most of us, it is also important to look good. Remembering your car is also a part of your personal brand; nobody looks good stepping out of a grime covered car.
When should I be cleaning my car?
Keeping off the daily grime is a challenge for the likes of Tim Westwood, not your average driver. There are plenty of reasons to put off a car wash, some people wait until a delightful finger painter has left their work on the car. To avoid that embarrassing display you have to regularly wash your car. The timing of the wash depends on your location and driving habits. A general rule of thumb is once a fortnight, which should keep it pristine. This will prolong the life of your paint job and make your car feel brand new even on its last legs.
How do I clean my car?
Put down the squirty bottle of Fairy Liquid™. Here is a guide right from getting equipment for cleaning your car, to how you dry your car.
The problem with sponge washing a car
People across the country use sponges, what's so wrong with a cheap sponge? A sponge might be common practice but it isn't recommended. It all comes down to the flat face of the sponge:
Washing gets rid of grime and grit, but some of this grit may be small and sharp, like stones or chips. Washing with a sponge, the grit becomes trapped between the paint and flat sponge. This embeds the sharp bits into your sponge. Now, wipe with the sponge and you will be creating tiny hairline scratches. These micro-scratches will add up and look horrible under the light but there is a solution.
Why should I use a Wash Mitt?
Wool or synthetic wash mitts are miles better than a typical sponge and will last longer. If you run your fingers through one of these mitts, you can feel the deep soft pile of fabric that is great for your car.
They are important as when heavily compressing the grit, it will not embed into the surface. The grit gets lost in the fabric layers so there is a lower chance to scratch. While not a perfect solution, these mitts will prevent a lot more costly work to your car.
Shampoo for your car got you scratching your head?
There are plenty of different shampoos out there, but only a few that will be good for you and your car. Here are the top two things to keep in mind when buying shampoo:
Lubricant washing solution – You might lose out on bubbles but you'll get an easy clean. Lubricating the grit will allow it to slide right off. This means less leg work, and also less pressure on the sponge or mitt, so you'll have fewer swirls too.
No harsh detergents – Using detergents will strip away polish and wax, leaving you a dull car. This is a particular problem with your paint. As anyone who does the dishes with bare hands will know, the soap can dry your skin, with similar effects on the paint. Dry paint will scratch off and leave unprotected metals, which can cause rust damage.
One bucket? Why not two? The two bucket method
As you may have guessed, this involves two buckets. Fill one bucket with your cleaning solution, a mix of shampoo and water, and the other with water.
Soak the mitt in the cleaning solution
Brush it along
Dunk it in the water bucket
Slosh it back into the cleaning solution
This will remove dirt off the sponge, so you aren't wiping muddy water back onto your vehicle. The two bucket method is particularly useful when you are doing the wash with children.
How to wash your car
Start with the Wheels, Rims, Arches and Door Jabs.
Using a more disposable brush and water. These bits are usually clogged with dirt so will splash that muck around if done later. A serious build up of dirt in these areas may lead to faults later. You will want to beware of getting water into the electrical systems, such as the locks. Use some tape to come key components but otherwise, you can hack at it with your brush.
Pre-Rinsing your car
Like any bath or shower, you rinse before applying shampoo. Rinse your car by gently spraying directly at the car, to loosen up any dirt and wet the paint so things slide off. Blasting the vehicle with a hose may cause a lot of damage, or a lot of micro scratches across your cars. A watering can could suffice in place of a hose, provided you can keep the water warm.
Shampooing your car
Now the real work begins, this is the most important part of the wash. This will cleanse your car of any mess on paintwork such as dust, grit, mud, etc… I'd say use warm water, to keep your hands warm and kick off the muck.
Use two buckets and two mitts. One mitt for the top areas of the car, roof, bonnet, upper sides above the wheel arch line. The other mitt for the lower areas, below the wheel arch line, front and rear bumpers. This top down approach means cleaning solution will drip down, instead of dirt later. Remember not to wipe too fast or too hard as you can cause a lot of those dreaded scratches. Practice your karate, Daniel San.
Avoid letting the paint dry in the sun, as you will find there are water spots left by residue. This may mean rinsing your car again, or a light drizzle.
Rinsing your car
This rinse is to wash away all those bubbles from the shampoo, most will glide straight off. The best way to start is a light pressure, to let bubbles run, then increase the pressure as it clears. Make sure to rinse from the top, and leave the car beading water instead of hosting a new lake.
Drying your car off
Drying is a critical part of a wash that most forget. The best tool is usually a microfiber towel which can pick up a lot more water than you think. Proper care when drying will prevent water streaks, which are being stubborn to remove. Their streaks come from particulate residue in the water. All water has it, be it hard, soft, or straight from the heavens. The water evaporates, even if it isn't too warm out, and leaves behind a residue trail of a droplet. The best way to dry, while intensive, is patting the vehicle dry, as this prevents any stray grit ruining your car.
Alternatively, you could just go to a car wash.
If you've got any car problems that a wash won't fix then we can help.