The temperature is dropping, leaves are piling and the clocks are going back in less than a week; no doubt autumn is definitely upon us! And whilst most drivers anticipate car troubles in the winter, the autumn is often overlooked and underestimated. During this season, the weather is very temperamental and is quickly subject to change; it can be wet, dark, windy, frosty or bright, making it more hazardous than assumed by drivers. This is why we have listed our top tips for drivers this autumn from driving in the rain to how to deal with winds and frost. Read on for expert advice on how to best prepare for the unpredictable and stay safe this autumn!
Andrew Jervis, Co-Founder of ClickMechanic, said: "Many drivers forget what the autumnal elements can do to cars and the roads. Like the weather, the environment can be unpredictable in this season, so take your time when driving and try to anticipate any hazardous conditions. Above all, keep your car in check; there's no reason you cannot hire a professional from ClickMechanic to confirm the condition of your vehicle."
Driving In Heavy Rain / Wet Conditions
1. Watch for leaves and large puddles on the road when driving in rain and on wet streets – Once loose leaves are flattened and dampened onto the surface of the road, they become extremely slippery, making it tricky for even the tyres to grip. It's also difficult to judge the depth of large puddles at times, which can become a hazard if driven at with speed. For this reason, you should try to avoid both if possible or drive slowly over them, taking extra care. You should be particularly aware of leaves if you travel on hilly roads.
2. Prepare your tyres – This goes hand-in-hand with the above tip. The roads will be harder to grip in the rain and so tyres should have at least 3mm of tread for effective traction. This grip will also be essential when it grows frosty over the coming weeks, so it's best to get them serviced or replaced now. Also, check the pressure of your tyres regularly; under-inflation wears down the tread more quickly and over-inflation means they have less grip on the road!
3. Check the condition of your wiper blades – There's often twice as much rain in the winter months compared to the summer months in the UK, so you should prepare your wiper blades for the worst. Clean them with a soft cloth and ensure they are in full working condition. If your sight is limited in any way during their use, replace them as soon as possible.
Dark Commutes
4. High beams on standby – Give your headlights and rear lights a clean with a wet cloth, removing all condensation and dirt, and make sure all are in working condition including the high beams. With the hour going back next week, commutes will be much darker and your lights will not only guide you but will make other drivers aware of you. Additionally, try to only use the high beams when you really need them and not when other drivers are approaching; they can easily blind them.
5. Take sunglasses – Not particularly useful in the dark, but with the shorter days comes a lower sun. As such, it can be awkwardly placed during your drive and even the sun visor can't block it. Having a pair of sunglasses is always handy in the car, particularly in times such as these!
6. Stay alert – The darker mornings and evenings may leave you feeling drowsier behind the wheel than usual, especially if you leave the heating running. To avoid this, make sure you get enough sleep the night before, swap drivers if possible during long trips and drink caffeine if necessary. If you find yourself growing tired, pull over to rest and stretch your legs.
Frost
7. Give yourself extra time in the mornings – All drivers know the pain of trying to heat the windscreen from the inside of the car whilst frantically scraping at it from the outside. If the temperature drops to the frost level, give yourself extra time in the mornings to defrost the car before your commute – it is very dangerous to only scrape a small viewing hole in the windscreen and to rush to work in this state! To avoid the frost altogether, park your car in a garage or cover it overnight.
8. Check antifreeze levels – Antifreeze prevents the water in the engine's cooling system from freezing. You can contact a professional mechanic to check this for you or buy an antifreeze tester for a small price.
9. Run the battery – In the colder climate, your car will need to run more energy from the battery to power itself, meaning the frost is a killer if your battery is on its last legs. It's best to inspect it at this time of year to make sure it can survive the autumn and winter and have the battery replaced when necessary.
High Winds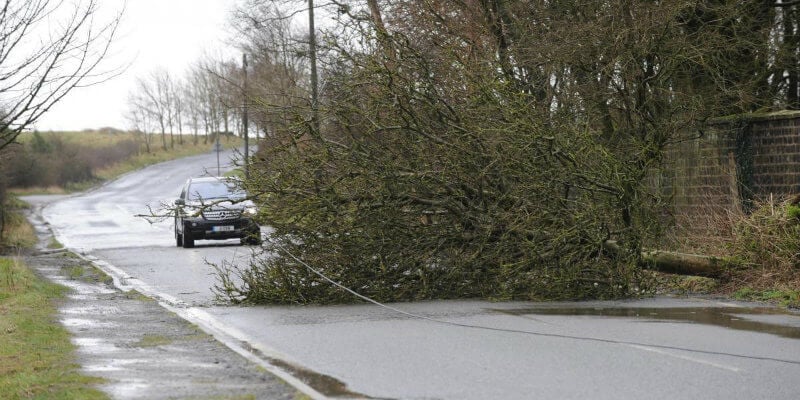 10. Monitor your speed – when driving in high winds, the faster you drive, the more likely you are to be driven off course. Not to mention, high winds can also affect your car's handling and braking. Therefore, always monitor your speed, take your time and keep your distance between yourself and other cars.
11. Anticipate debris – Prepare yourself for sporadic bits of debris in the road or even fallen trees. This is another reason for keeping your speed low in high winds.
12. Don't travel unless necessary – Driving in high winds can make even the most confident drivers feel ill at ease. If the conditions on the road are hazardous or you feel uncomfortable driving in such weather, do not attempt to do so unless necessary.